Leaks, Repairs, Appliances, & More
ASAP Plumbing Experts is capable of addressing the smallest and biggest plumbing problems you may have. Our plumbing experts have years of experience in the industry, allowing you to rest easy when our team is on the job. We are able to provide pipe leak repairs, drain cleaning, appliance installations, and more. You benefit greatly from our comprehensive, all-inclusive plumbing solutions.



Appliance Repairs and Installations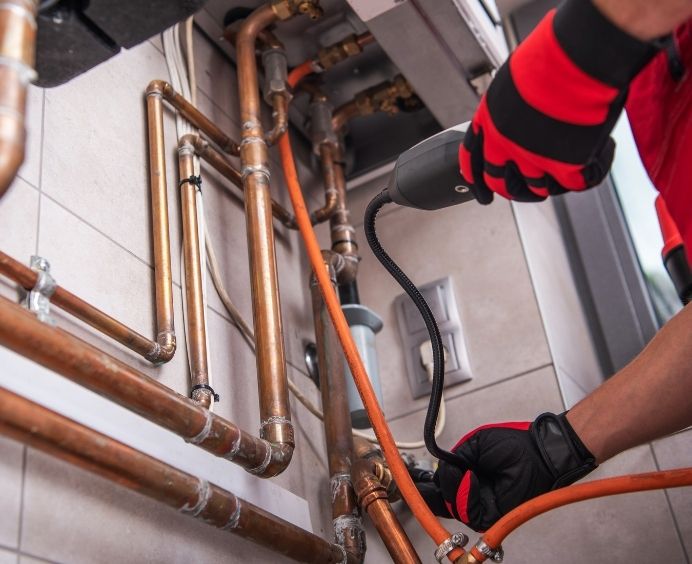 Plumbing Services We Offer
The plumbing services we offer at ASAP Plumbing Experts are all-inclusive, meaning we can help you with any appliance in your home handling water or plumbing. This includes standard appliances like the dishwasher and toilet. It also means we can service other appliances like your water heater, sump pump, and water softener. All of these areas work closely with water, meaning they have plumbing. When any of them require a repair or need service of any kind, our expert plumbers will offer high-quality service and customer care.
Learn more about each of the services we have to offer for various appliances and plumbing in your home:
Plumbing Repair & Installation
Our plumbing repairs include everything from leaking pipes and clogged drains to water heater repairs and low water pressure. We are able to pinpoint specific problems in your plumbing system using our experience and state-of-the-art equipment. In turn, we use trusted plumbing methods to perform necessary repairs. We can even install new plumbing related to your appliances and system.
Leaks are common in any household. They can be caused by any number of reasons. Many times it involves an old seal breaking. You may find a leak underneath the kitchen or bathroom sink, while other leaks may appear underneath appliances or hidden away in the wall. If you suspect a leak in your home or discover a leak, our leak repair experts will help you address it perform any water cleanup along the way.
Pipe Repair & Installation
In the event your pipes begin leaking or busting entirely, you'll need pipe repair and installation services. Many leaky pipes can be saved because it's caused by a poor seal. However, pipes may need to be replaced in some cases because they're no longer viable. The pipe itself is likely damaged and requires a completely new part. We are happy to perform any pipe repair or installation you may need in your home.  
Toilet Repair & Installation
Is your toilet constantly running? Does water leak from the base? Do you have a pesky clog that won't go away with a plunger or snake? Our toilet repair and installation services can handle any type of toilet problem you have. Toilets are one of the most used appliances in the house, so they must work at all times. Contact our team for 24-hour plumbing repairs when your toilet gives you trouble. 
Faucet Repair & Installation
A leaking faucet can drive your water bill, and low water pressure wastes your time. These problems and more can be addressed with our knowledgeable plumbing services. Give us a call when your faucet is acting up. If it's too damaged or requires a replacement, we can perform that as well. We can even help you install a brand new faucet that you've purchased yourself. Just give us a call to schedule an appointment.
Sink Repair & Installation
Whether it's a kitchen sink, bathroom sink, or outdoor sink, we can help you with any problem you may have. Common sink problems we repair include leaks, clogs, slow draining sinks, and loose garbage disposals. Our team will get your sink up and running like new before you know it. Sinks are a must-have appliance in the home, so seeking out repairs or replacements is essential for your comfort.
Garbage Disposal Repair & Installation
A garbage disposal is a great appliance to have in your home, but it can experience a lot of problems if not cared for properly. It doesn't matter what type of garbage disposal you have in your home because our team can perform any repair you may need. Our plumbers have experience with leaking garbage disposals, jammed flywheels, bad motors, electrical problems, and more!
Shower Repair & Installation
Shower repairs range from low water pressure to inconsistent water temperature. ASAP Plumbing Experts knows the types of repairs you need when you experience these shower plumbing problems and more! You can rely on us for any type of plumbing issue related to your shower or bathtub. Reach out to our plumbing team to improve your bathing experience today!
Water Heater Repair & Installation
We rely on water heaters to provide us with soothing showers and hot water upon request. When they are unable to provide such comfort in our homes, something is wrong. Water heater repairs include everything from dip tubes to faulty burners. We'll get your water heater up and running. In the event your water heater isn't repairable, our plumbers will help you replace it.
Sump Pump Repair & Installation
In Houston, your sump pump protects your home from flooding. It prevents water from accumulating in your home by pumping water out of your crawlspace or basement and into a nearby storm drain. Unfortunately, sump pumps can experience a lot of issues such as power loss, part failure, and poor maintenance. To get your sump pump up and running again, contact our expert plumbers.
Grease traps are vital to the operation of your commercial kitchen. They assist in the efficiency of your kitchen, but when they fail, that efficiency is lost. Ensure your grease trap is in excellent condition and working for your next rush. The last thing you want your kitchen handling is excess grease and a dirty kitchen. ASAP Plumbing Experts is the plumbing company you need for grease trap repair.
Houston buildings are built on concrete slabs because of the frequent flooding. Due to this, plumbing is located underneath the slab, which can allow plumbing problems to go unnoticed for a long time. It is important you know the signs of under slab plumbing problems and when to call our plumbing experts. ASAP Plumbing Experts offers professional and efficient under slab plumbing services to Houston property owners.
The types of outdoor plumbing we can service are related to outdoor kitchens, showers, faucets, and sinks. These outdoor areas are a big part of your daily comfort. When they stop working, it's critical you have a versatile plumber to fix the problem. Our team is able to service a vast range of outdoor plumbing types related to kitchens, sinks, and spigots. This type of plumbing can experience more wear and tear than indoor plumbing, so it's best to have a professional handle any repairs.
When a busted pipe or failed appliance fills your home with water, you need professionals who know how to handle the cleanup. It involves more than just getting a few towels to dry it all up. The process involves thoroughly removing the water and drying out all the materials so your home can be restored. Have professional water damage restoration experts help you with your cleanup. 
How quickly can you respond to emergency plumbing requests?
We strive to respond to emergency requests as soon as possible. We dispatch plumbers immediately after receiving an emergency request. Response times will vary based on the time of day and where you are located. Give us a call today to make a request or to ask for an estimated time.
How much do plumbing repairs cost?
The cost of plumbing repairs varies on the type of repair you need. Get in touch with our team today to learn more about our services, and request a quote! Once we know more about your plumbing repairs, we can provide you with an accurate quote for the service.
Does homeowners insurance cover plumbing repairs?
Homeowner insurance covers plumbing repairs when the damage is caused by an unexpected event or accident. You'll have to pay out of pocket if the damage is from age or regular wear and tear. 
How much does it cost to install plumbing?
The cost to install plumbing varies widely based on a number of factors. Those factors include plumbing material, amount of plumbing being installed, the complexity of the project, and the contractor. If you want to learn more about pricing for plumbing installation, give us a call for a quote.
Architecto Beatae Vitae Dicta Exslicabo!