WORKING APPLIANCES ARE A MUST
Maintaining Hardware and Fixtures
Faucets are an essential quality of your property's style and design. They have to look great, but more importantly, they have to work. A broken faucet presents several problems, such as being unable to wash your hands obtain drinking water. Your faucet, whether it's in the kitchen, bathroom, or another part of your property, must work. ASAP Plumbing Experts understands the importance of your faucets and their many pieces of hardware. When your faucet starts giving you trouble, reach out to our team for faucet repairs or replacements.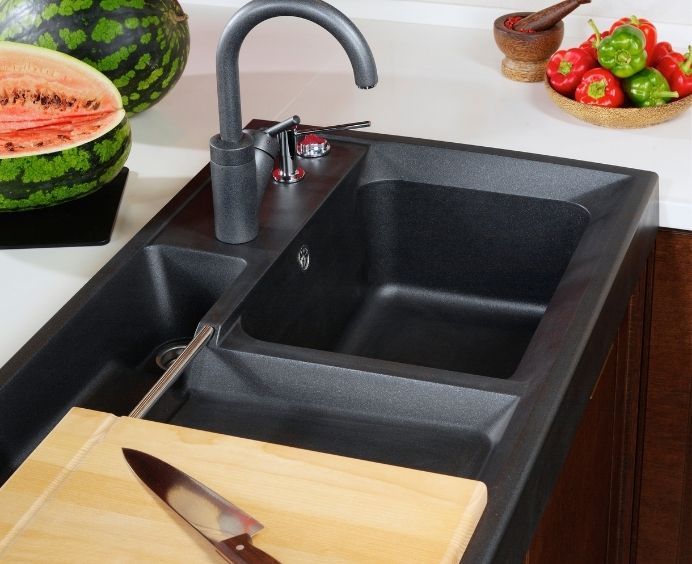 Faucet Repairs We Provide
Faucets can run into all sorts of problems as they go through regular wear and tear. Age may be to blame, or a more serious complication may be at play. No matter what is causing your faucet trouble, our team will diagnose and repair the problem. The plumbers we have employed have years of experience repairing and installing faucets of all types. They can handle any faucet repair you may need, including the following: 
Rust or corrosion
Low water pressure
No water coming out of the faucet
Leaking faucet repair
Noisy faucet
Faucet sprayer repair
Loose hardware
And more!
Types of Faucets We Install
The kitchen and bathroom are the two locations in your home or business that will feature a faucet. However, many other areas of your property can feature a faucet as well, such as a laundry room, garage, outdoor patio, or workshop. The team at ASAP Plumbing Experts doesn't care where your faucet is on your property. We provide faucet repairs on all types of faucets regardless of their purpose. Our plumbers have the experience and knowledge to perform the following faucet installations: 
Kitchen faucets
Bathroom faucets
Bathtub faucets
Shower faucets
Outdoor faucets
Garage faucets
And more!
Why Hire Us for Faucet Installation
ASAP Plumbing Experts is comprised of highly experienced and qualified plumbers with years of experience in the industry. They deliver effective solutions to your faucet repairs and installations. It doesn't matter the type of faucet, the brand, or the purpose; our team can perform your faucet installation in a timely and cost-effective manner. Our team treats every customer like family so that you can expect the best customer experience. You'll also benefit from our plumbing services because they're available 24/7. When it comes to faucet repairs or installations, call us when you need us. We'll be there to help you with your plumbing needs, no matter the time of day.
The Importance of Professional Faucet Repair and Installation
Faucet repairs and installations are meant to help you save on your utility bill while also preserving your convenience. A malfunctioning kitchen or bathroom faucet can be extremely stressful. It causes you to do tasks differently or postpone tasks altogether. You should always have a professional handle your faucet repairs and installations to prevent these types of problems in your home or business. Performing it yourself can lead to an inefficient appliance. As a result, you're left with a higher water bill and potential water damage. For these reasons, you need a professional plumber to handle your faucet repair and installation.
24-Hour Plumbing Services
If you are experiencing a plumbing issue, contact ASAP Plumbing Experts right away. Our plumbers are available 24 hours a day and 7 days a week for any plumbing emergency you may have. If you don't have an emergency, call us or send us a message to schedule an appointment. We'll provide you with a quote for your new faucet or faucet repair. The expert plumbers at ASAP Plumbing Experts have the knowledge you need at your side.
When is it time to replace my faucets?
There are many cases in which you should replace your faucets. We've listed them below:
No longer work properly
Rusted or corroded
You no longer like them
They don't match the room's style
Poorly installed
Of course, you can always replace your faucets when you want to. There is no rule on when to replace your faucets, but you'll get the most out of your sink when it meets your wants and needs.
What brand of faucets are you able to service?
ASAP Plumbing Experts is able to service any brand of faucets you may have or want in your home. Some of the most common we install include:
Delta Faucets
Kohler
Moen
Pfister
American Standard
Of course, the brands listed above are simply a sample of the brands we install. Get in touch with our team today to learn more about our faucet repair or installation services. 
Are you able to install facuets outside?
Yes! We are able to install and service many different types of outdoor plumbing, including outdoor faucets. Give our team a call to get a quote.  
Ensure Your Faucet Meets Your Needs!