The Most Important Pipe on Your Property
Your sewer line is the most important pipe on your property. It collects all the wastewater from your drains and carries it away for treatment processing. When it isn't functioning properly, your sewage or wastewater can build up and eventually come up from the drains. This is a serious problem as it can cause serious plumbing damage and water damage. If your sewer is backed up or you are experiencing draining issues with your entire property, it's likely caused by sewer line damage. In that case, you need sewer repairs as soon as possible.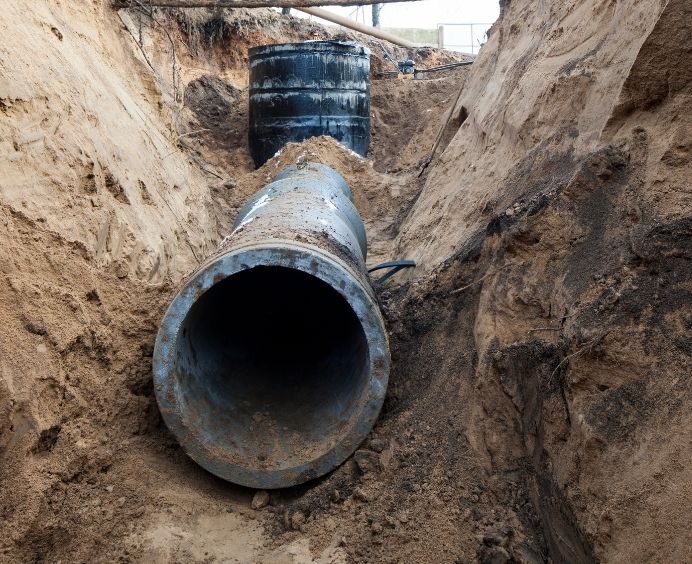 Signs of Sewer Line Problems
We've mentioned a few signs of sewer line problems already, but there are many things to look for. If you notice any of the following signs, you should have your sewer line inspected as soon as possible. From there, our team will provide an effective solution to the problem at hand.
Sewer backup (wastewater coming up from the drains)
Foul odors originating from the drains
Slow draining
Multiple clogged drains
Green, lush patches of grass on the property
Unexplained standing water on the lawn
Pest infestations (insects and rodents)
Mold or mildew
Foundation problems
If your property has multiple signs listed above, it is likely connected to your sewer line damage. However, not all of the signs listed above point to sewer problems. They may be related to other issues on the property. It's always important to consult with the respective professionals to determine the cause.
When determining if you have sewer line problems, there are many signs to look out for. However, there are many different problems your sewer may be experiencing. Once we are on-site, our team will perform a sewer camera inspection to determine the issue. We'll determine the types of repairs you'll need when inspecting your sewer. The sewer line issues you may be experiencing include:
Clogged sewer
Tree root infiltration or clog
Corroded or aged pipes
Cracked or leaking sewer pipes
Bellied pipe
Misaligned pipe
Regardless of your sewer line's issue, our experienced team will help you solve it using accurate and effective solutions. We work with all types of budgets to ensure your plumbing is back in working condition in no time.  
Sewer repairs require a professional's attention sooner than later. Our plumbers are available 24 hours a day and 7 days a week for your sewer needs. Give us a call for emergency sewer repairs or to schedule an appointment for an inspection. We are happy to offer clients a quote so that you can learn the costs of repairs. Our master plumbers are here to serve you the best way possible and address your sewer needs. 
How much does a sewer repair cost?
The cost of sewer repairs greatly depends on the types of repairs needed. Some sewer repairs are easier to complete than others. Once our team has thoroughly inspected the sewer line and understands the issue, we can create an effective plan with a quote attached.
How long does it take to repair a sewer line?
We can perform a majority of sewer repairs in one to three days. However, there are certain factors that may increase that timeframe, such as the complexity of the repair, the type of problem, the location of the pipe, and more.
What is trenchless sewer repair?
There are many trenchless sewer repair methods, but all of them work similarly. Essentially, trenchless sewer repair is the process of installing a new sewer line through the existing line. The new pipe is sent through the old line, breaking up the old pipe as it moves along. Again, there are many trenchless sewer repair methods, so your replacement may look or sound a little different. Get in touch with our team to learn more about trenchless sewer repairs. 
Give Us A Call For Sewer Repairs!