What is Under Slab Plumbing?
In Houston, a majority of homes and properties are built on concrete slabs due to the higher water table. Flooding is a regular issue, so building on top of concrete slabs helps with stability and structure. That said, plumbing is installed underneath the slab, causing problems when repairs need to be made. So, under slab plumbing requires a professional master plumber for the job. We can provide you with the plumbing repairs or replacements your under slab plumbing may need.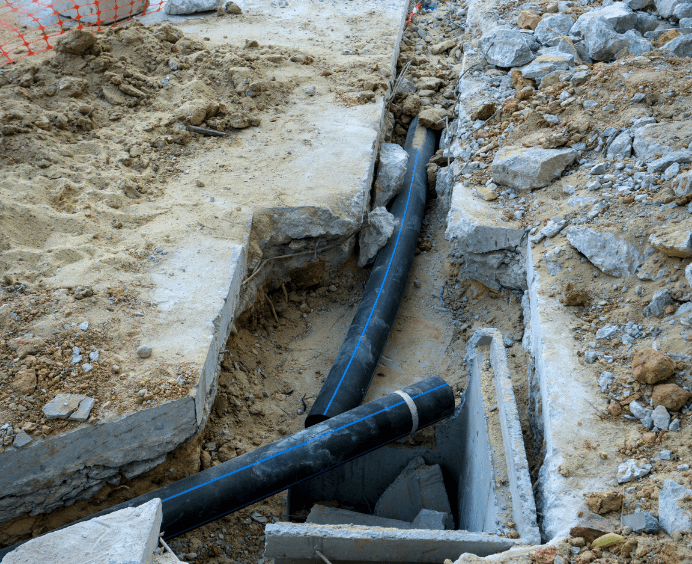 Signs of Under Slab Plumbing Problems
With your plumbing hidden underneath the concrete slab of your home or business, it's hard to know if it has any problems. Leaks can go undetected for years before they are identified or show signs. However, there are certain things you can look for to know if your under slab plumbing is in trouble. To really know if your under slab plumbing is in trouble, give ASAP Plumbing Experts a call. We can take the signs you've identified and really find out what the problem is. To know when to call us, look out for the following:
Increase in water bill for no reason
Cracks in the foundation
Discolored or deteriorating flooring
Sound of running water when there is no faucet on
Plants around the foundation grown unevenly
Visible shift in soil or dirt around the foundation
Foul or musty odor coming from floors or walls
What Causes Under Slab Plumbing Problems?
Why does your under slab plumbing have a problem? Well, it could be caused by a variety of factors, some associated with external factors while others may be from the plumbing system altogether. Even though the plumbing is protected underneath a concrete slab, it's not void of problems. Many things can cause under slab plumbing problems; the most common include the following:
Age or corrosion
Natural movement of the soil or structure
Seismic activity (earthquakes)
Tree roots
High water pressure caused by clogs
UNDER SLAB PLUMBING LEAK REPAIRS
How Are Under Slab Plumbing Leaks Repaired?
The method by which we repair your under slab plumbing depends on the severity of the problem. Some leaks are minor enough for our team to simply cut into the concrete, perform the leak repairs, and replace the concrete. However, they are not always that simple. Under slab plumbing can pose a lot of complexities that require more extensive projects.
Serious under slab plumbing repairs require trenches and excavation of the foundation. This is especially true if all the under slab plumbing must be replaced from corrosion or old age. No matter how bad your under slab plumbing may be, our team is here to complete it in the most effective and efficient method possible. Trenchless pipe repair may also be an option, but it greatly varies on the problem you are experiencing.
Solutions to Future Problems
The best way to solve the challenge under slab plumbing presents is to reroute the plumbing when necessary. If you require minor repairs, this isn't the right time for you. However, those needing to replace their under slab plumbing would benefit from rerouting it around the house rather than keeping it where it is. We recommend our clients routing the plumbing around the house to assist in any future repairs or replacements that may be necessary. It will greatly reduce their costs, and repairs will not be as extensive. Once we know more about your situation, we can give you more details regarding this process.
24/7 UNDER SLAB PLUMBING REPAIRS
Under Slab Plumbing Repairs by Experts
ASAP Plumbing Experts is here to help you address your under slab plumbing in the most effective and efficient method possible. We match each solution to your unique situation and property. This helps reduce costs, project time, and labor. When your property begins showing signs of under slab problems, give us a call. We're available 24/7 and offer the following for under slab plumbing:
Sewer line inspection and repairs
Rerouting under slab plumbing
Under slab plumbing leak repairs
Under slab plumbing replacement
Under slab plumbing inspections
Slab leak detection tests
How deep are plumbing pipes under a slab house?
Plumbing is located 12 to 24 inches underneath a slab house.
Does homeowners insurance cover plumbing leaks under slab?
Homeowners insurance does not cover leaks with under slab plumbing if it is from gradual aging or wear and tear. 
The only time it would cover your under slab leaks is if the leaks were caused accidentally or unexpectedly, such as an earthquake.
How do you fix under slab plumbing?
The process of fixing under slab plumbing can be quite strenuous. We must dig trenches to gain access to the plumbing underneath your home. After, we can gain access to the damaged plumbing and replace it. These projects can take weeks or even months to complete.
Preserve Your Under Slab Plumbing!