DON'T IGNORE LEAKY PLUMBING
The Seriousness of a Leak
Even the smallest leak can wreak havoc on your property. These types of leaks often go undetected for many years, causing water damage, mold growth, and a steady incline in your water bill. Often, water damage or mold is detected before the leak is discovered. Plumbing leaks are a serious problem, no matter how big or small. They easily lead to greater costs, cause property damage, and make areas unsafe. Regular plumbing maintenance and prompt responses to leaks will help you prevent major costs. ASAP Plumbing Experts offers all-inclusive leak repair services for any plumbing or appliance on your property. 

COMPREHENSIVE LEAK REPAIRS
ASAP Plumbing Experts can repair any plumbing leak you may have on your property. Residential and commercial customers can take advantage of our leak repair services. Our plumbers have experience with all types of plumbing and appliances in residential and commercial settings. We can perform any of the following leak repairs on your property:
Faucet leak repair
Toilet leak repair
Sink leak repair
Pipe leak repair
Showerhead leak repair
Shower leak repair
Water heater leak repair
Dishwasher leak repair
Under slab leak repair
Water softener leak repair
And more!
Signs of a Leak on Your Property
With a majority of your plumbing being hidden inside walls and floors, it's extremely difficult to notice any leak on your property. Of course, leaks can occur anywhere within your home: faucets, underneath sinks, behind appliances, etc. Knowing the signs of a leak will help you prevent further damage to your property and subsequently lower costs for leak repairs. Here is what you must be on the lookout for:
Brown or yellow spots on drywall
Low water pressure
The sound of dripping water
A steady or sharp increase in water bill
Rusty pipes
Peeling or blistering paint
Bloated drywall
Mold or mildew
Common Places to Find Leaks
While on the lookout for leaks, it is beneficial if you know where to look. Fortunately, a handful of areas in your home and business experience leaks more often than others. We recommend you look these areas over first and more regularly. When noticing signs of moisture or a visible leak, contact our team right away. Be sure to look at these areas regularly for any potential leaks: 
Toilets
Underneath sinks
Water heaters
Showers and bathtubs
Exterior spigots
Ceilings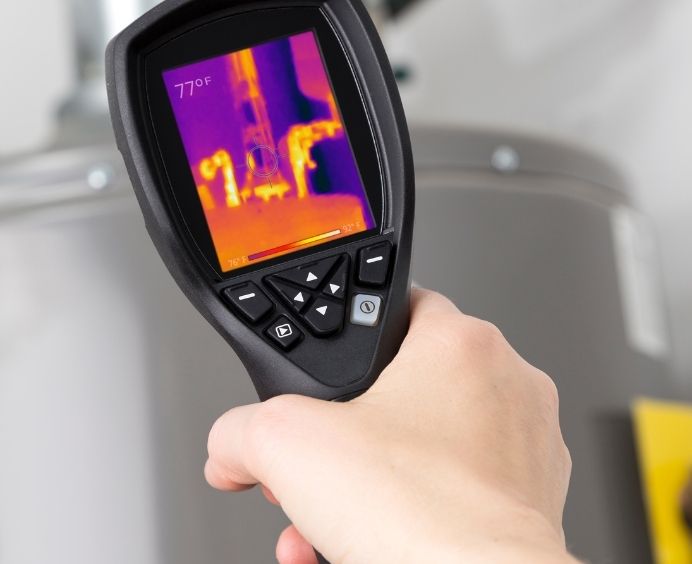 GET IN TOUCH WITH THE EXPERTS
ASAP Plumbing Experts recommends regular plumbing inspections. This is the best method to prevent future leaks or catch them early. Our team has methods of locating leaks within your plumbing when they aren't blatantly noticeable. These methods are highly accurate and trusted within the industry, giving us the ability to help you save on future water damage repairs. We also recommend you contact our team for any leaks you may have. You may feel like you can handle it yourself, but hiring our team will ensure the leak is handled properly and no other issues are at play. 
ASAP Plumbing Experts offer 24/7 leak repair and plumbing services to Greater Houston residents and businesses. Give our team a call if you discover or suspect a leak on your property. We'll help you address the problem or locate it. For emergencies, give our team a call right away. To schedule an appointment, you may call or visit our contact page to fill out the form. We'll be happy to provide you with a quote on your leak repair. 
Why are my pipes leaking?
There are many reasons that cause pipes to leak. Some of the most common include age, corrosion, or wear and tear. These issues are common and will occur over time. However, your pipes may also be leaking because of the following:
Broken seals
Clogs
Poor installation
Tree roots
High water pressure
Soil shifting or movement
How long does it take to repair a pipe leak?
It greatly varies on the severity of the leak and where it's located in your home. Leaks underneath the sink are relatively low-cost and quick fixes, while under slab plumbing is a significantly complex repair. After learning more about your pipe leak, our team will provide you with an accurate and quote! Get in touch with our team today to start the process.
How much does it cost to repair a pipe leak?
It will greatly depend on the type of leak and its location. Once we know more about your pipe leak, we can provide you with a quote. Give us a call to get a quote today.
Give Us a Call for Pipe Leak Repairs!