There is beauty in plumbing. Plumbing is the most convenient system in our lives, providing us with fresh water and allowing us to dispose of our waste in a sanitary manner. But when this system breaks down, like with a pipe leak, then problems will quickly arise. Not only will you lack something essential, but a pipe leak can also cause flooding, black mold, and many more problems.
If you discover a leaking pipe in your home, it's best to take action at once, or you will have to pay a pretty penny to get the damages fixed. Thankfully, you can take care of this problem with polytetrafluoroethylene (PTFE) tape. Yes, you can solve your problem with something as simple as pipe leak tape. Learn more about this below.
What is a PTFE Tape?
When you have a pipe leak, it could be from high water pressure, seal damage, pipe corrosion, and other serious issues. This is when PTFE tape comes in, which is commonly used by handymen for piping and ductwork. PTFE tape (also known as Teflon tape, pipe leak tape, and plumbers tape) is an easy-to-use adaptable adhesive that is strong enough to last for years.
Types of PTFE Tape
There are many types of PFTE tapes available. Every kind of PFTE tape has its purpose and level of density to assist with any piping issues.
White Tape
White tape is the original PTFE tape, which later developed into the different types below. This is a single-density tape typically used for basic plumbing jobs and low-pressure water. White tape has a wide range of uses and won't tear under pressure, so this is quite reliable.
Copper Tape
As the name states, copper pipe leak repair tape contains fragments of copper. This is certified as a thread lubricant and provides extra lubrication for pipes and bolts. Because this tape is so flexible, it can even wrap around wires and cables.
Green Tape
Green PTFE tapes are grease and oil-free tapes typically used to seal pipes that carry oxygen. This high-density tape is great for oxygen systems and only requires a few wraps.
Red Tape
The red-colored PTFE tape is designed for high-pressure water distribution pipes. Usually, handymen looking for a more dense tape will use this pipe leak tape for its triple density. This tape may be referred to as "red," but it is generally pink.
Yellow Tape
Last but not least is the highly resistant yellow PTFE tape. Yellow tape is a double-density tape used for fuel and gas lines. You can easily disassemble this tape even after multiple years of being in use.
Benefits of a PTFE Tape
As you can tell, each of these PTFE tapes has different uses and offers a wide variety of benefits for you to explore. Check out all this entails below for more information.
Chemical/Pressure Resistant
PTFE tapes can resist corrosion from most chemicals, including acid, ammonium hydroxide, and more. PTFE tapes can also withstand high-pressure water, making them ideal for piping and ductwork.
Hydrophobic
PTFE is great for taking on high-pressure water, but people also rely on this tape thanks to its hydrophobic nature. Pipe leak tape is perfect for plumbing because it can easily repel water.
Resistance to High and Low Temperatures
Another great advantage of using PTFE tape is that it can function in high and low temperatures. This non-flammable tape can remain stable at -450°F and +500°F.
Non-Stick Release
Thanks to this tape's non-stick performance, you won't have trouble with removal. You will easily remove this tape without the unnecessary stickiness you would normally get when dealing with tape. You will also find cleaning this tape to cause no issues, whether it comes into contact with oil, resin, paste, or any other adhesive substance.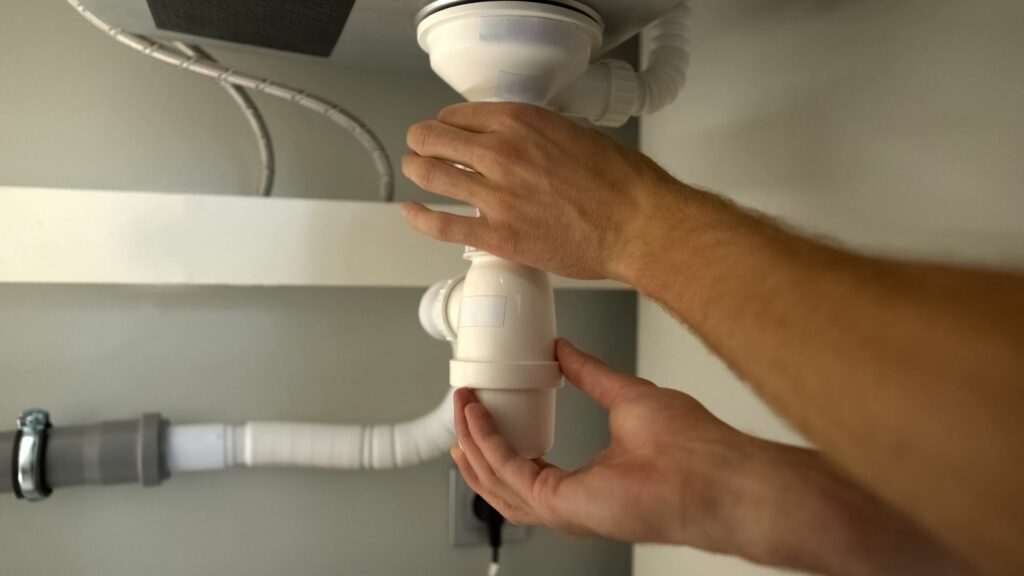 Our Plumbing Experts Can Help
So can you tape a leaking pipe? Of course! Simply complete the task with any of the PTFE tapes mentioned above. PTFE tape is an essential product for insulation and will rid you of all your pipe-leaking problems. You can also rely on the team of experts here at ASAP Plumbing Experts for your circumstances. Along with our leak repair services, we provide other efficient plumbing services for you to enjoy the convenience of plumbing with no problem. Give us a call to get the assistance you seek today.